quality powerflush by specialist company
modern equipment + high performance chemicals + knowledge = excellent powerflush results.
We use latest technologies to perform powerflush efficiently and thoroughly. We've always believed that successful powerflushing is derived from moving water as fast as possible through a heating system to mobilise and transport the debris to a point where it can be forcibly discharged.
Thats why we use Kamco Clearflow CF90 Quantum powerflush pump which can deliver 150l/min flow. The all important flow rate is achieved without increasing maximum pressure beyond 1.8 bar, to ensure that no damage will be done to a heating system. The flow rate is more than double that of most power flushing pumps on the market, enabling it to remove more debris from a system and in less time.

Power flush should be done by a central heating professional, someone who works on gas boilers and central heating systems all the time, therefore "Gas Safe registered", it will be much better than one who just accomplished 3 hours powerflush course.
We are proud to be Gas Safe registered (our number is 515253) confirming that Powerflushdoctor engineers are heating professionals.

We have been trained to powerflush Worcester-Bosch boilers.
Clearflow CF90 Quantum

The ultimate high performance powerflushing and descaling pump for professionals. Maximum flow rate 150l/min, motor 0.75 HP, twice as powerful as average powerflushing pump. (completely safe for a boiler and pipework, doesn't build up pressure)
CombiMag powerflushing filter

High power magnetic field retain even the smallest of particles.



RadHammer

We apply high frequency vibration to clogged up radiators loosens deposits for easy powerflush removal.

Testing

We provide essencial chemical testing.



Care

We take great care to protect your property.
Our vast experience is one of our biggest strenghts.
We have powerflushed all makes of boilers
and all types of systems
(see below for some examples)

(combi)

(open vent)

(old)

(new)
Unvented
system (megaflo)
powerflush before
installing
a new boiler
(old boiler is removed)
Our powerflush certificate is approved by:
- British Gas, Homeserve or another maintenance service providers
- all boiler manufacturers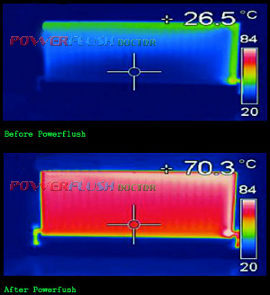 Gas safe registered engineer
Experienced powerflushing specialist
Powerflush trained by Kamco
Fully insured




Symptoms
The boiler or pump is noisy
Combi boiler blocked heat exchanger, hot water demand - boiler fires up than goes off
Reduced hot water temperature
Boiler overheats or shuts off when hot water is needed
The radiators have cold spots or not working
It takes ages for the system to warm up
Radiators need regular bleeding of accumulated air
Evidence of sludge and rust in the system
Pump failures

Corrosion inside circulatory pump causing pump failures and circulation problems.

Rust reduced the diverter valve diameter from 22mm to around 7mm severely reducing circulation.

Inside the internal boiler component, dirt and rust causing boiler breakdowns.
We supply and fit water treatment products
Only ₤ 130 supplied and fitted
We do power flush also known as powerflush , powerflushing or power flushing, in London, Essex, Kent, Surrey, Berkshire, Oxfordshire, Bucks and Herts.